The Happy Healer with Alex Hermosillo
"The Happy Healer"
internet radio show
If you or a loved one needs help-physically, mentally, or emotionally-call Alex for assistance. Master Energy Medicine (M.E.M.) works in person, or at a distance. Long-distance healing is as powerful as it is in person! Many people have already benefited from this service.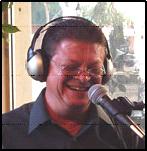 Alex is the host of "The Happy Healer" Show. Some people call him Healer and others friend. As a young man, Alex had the ability to help people with their pain with a touch of his hand.
Later in his life, a near death experience took Alex to the other side where he found peace. He understands that the mind and every cell of your body stores a complete record of information about you from the moment you were born to the present. Every experience of joy, gratitude, contentment and peace of mind is within you. Also within you are the energies and memories of heartbreaks, grief, confusion and fear.
With the gift that was given to Alex, along with his experiences of healing, research and dedication, he created Master Energy Medicine (M.E.M.). M.E.M. is a simple non-invasive technique that will assist you in releasing dense physical, mental and emotional energies allowing your body to heal the cause. Through M.E.M., Alex is able to teach others how to release their pain, be it emotional, mental or physical. Many have received spontaneous healings from problems such as migraine headaches, backaches, tumors and depression.
Alex travels the U.S. assisting people in releasing their unserving energies, as well as teaching the M.E.M. technique. In his words, "There are many different healing techniques in this great world of ours. Intent overrides all techniques...and that intent is Love".
Alex is available for speaking engagements at universities, hospitals, medical facilities, corporations and non-profit organizations.
Master Energy Medicine works in person or over the phone. Call in and experience the Love and Peace for yourself. Ask for help for yourself or for a loved one. Many have called, many have been helped. Everyone truly deserves to achieve their dream of a healthy, happy, loving life.
Alex is in service to All.
Monday, March 18, 2013
Other Dates For This Event:
Contact:
Website:
Click to Visit
Save this Event:
iCalendar
Google Calendar
Yahoo! Calendar
Windows Live Calendar
Share this Event:
Email to a Friend
More...
Categories:
Comments powered by Disqus